......................................................................................................................................................................
Are you CALLED to the transformational PATH OF SHAKTI ?

Then the Path of Womb Awakening is for you!
It's a path for women and men.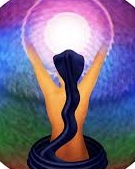 You will 'come alive' and awaken your creative Shakti Power and embody the beauty of your Soul, connecting it to the Power of your Womb and the Loving Wisdom of your Heart to become a Grail Light of the World.
IT IS TIME to birth the magical potential inside you!
When women awaken their wombs, the world will awaken.
Men also have this creative power center - it's called the "Hara" in eastern spiritual traditions.
Every Awakened Womb and Hara has its own unique Sacred Signature – your contribution to the Divine Weaving of this work is incredibly valuable.


Womb Awakening births the richness of your inner beauty and spiritual treasures, which live deep within you. You will journey along the inner shamanic dream paths for a powerful and magical journey of profound soul transformation and feminine awakening - to shine your light into the world.
It is the return to the Holy of Holies that lives deep inside of us - our spiritual Womb, where we conceive, gestate and rebirth ourselves back into the Web of Life and the unified field of Love. Modern-day Womb Priestesses are following the Red Thread of a sacred lineage that weaves back thousands of years, to once again embody the creative powers of the feminine principle in service to life.
Men and those in Sacred Union are welcome too as Womb Awakening is a journey that fully includes, embraces and unites the feminine and masculine.
(~ The Fountain of Life)

Traditionally this work was taught by Beloveds living in Sacred Union together. We need our beloved men to take this sacred journey of Womb Awakening together with us, inviting them to be the 'Gardener of the Womb', those who tend this beautiful garden that is full of potential and magical possibilities and from which a New Earth will be birthed!
The Goddess is a living, pulsing vibration within your own body and soul. A Magic Doorway is opening in our world. A new feminine revolution is birthing in women and men. Have you heard the Call?
Ulrike has trained with The Fountain of Life Mystery School since 2013, immersing herself in an in-depth Shamanic Journey of Womb Awakening. She finished 4 spirals of the Womb Awakening 9 Moon Apprenticeship - together with a Womb Circle devoted to the Path of Love - and has assisted in 3 Fountain of Life Teacher Training Retreats with Seren and Azra Bertrand (Fountain of Life Founders) and has also been part of various Womb Pilgrimages offered by them. She has been a Fountain of Life Senior Teacher and Mentor for 4 years and Head Facilitator for the Apprenticeship Circle for 2 years. She is dedicated to share the womb wisdom with the world, serving as a Womb Awakening Teacher, Facilitator and Mentor.
1-1 online Mentoring via Zoom / phone with

Ulrike Sara Shemaya
can be booked as additional individual support for

all Fountain of Life Online Courses

(Click on each course for more information and/or registration)
~ Womb Awakening Intensive for women (40 days) ->public course starts in 2018

~ Hara Awakening Intensive for men (40 days) ->public course starts in 2018

~ Womb of Life: Total Rebirth (30 days) -> individual course only, book your date
~ Lunar Womb Blood Awakening (30 days) ->individual course only, book your date
~ Sacred Grail Union: Way of Love (30 days) -> individual course only, book your date
~ Magdalene Vision Quest (21 days) -> start whenever you want

next public course starts December 2018
The following course is a 'starter' and can be booked at any time:
~ Womb Vision Quest (21 days)
You can book each course by clicking on the course link above:
You will be transfered to the Fountain of Life website where you can register.
These courses do not include any mentoring support! I am here to serve you with integrating and deepening this intense experience by offering individual mentoring support as you need it (additional fee applicable). Please get in touch with me if you feel called to have this great additional support.
You have more questions?
Or want to book me as your personal Womb Mentor?
Please email me!
You can also book my (additional) mentoring support for the

Womb Awakening 3 Moon Apprenticehip
(Online-Immersion with The Fountain of Life starting again in 2019)
Scroll down for more information!
 Click here to find all general information.
My personal invitation to your
3 Moon Womb Awakening Apprenticeship Journey
Mary Oliver asked...and so do I:
Tell me, what is it you plan to do with your one wild and precious life?
We will have a special safe womb (facebook group) nest in which we are gestating together for 3 moons. It will be an indepth soul journey into the heart of creation.
❀ Do you feel the longing to truly express and fully share your soul's essence in this world?
❀ Do you feel a deep desire for Sacred Union within, with your beloved and with all that is?
❀ Do you feel drawn to explore the feminine dimension of sound, dance, healing?
❀ Do you want to activate your 'beauty pathways'?

❀ Do you yearn to align yourself with Mother Earth's rhythms and cycles?
❀ Are you passionate to reconnect with your Wild Original Innocence?
All of this and so much more is waiting for you!
The beauty of this journey is that we are reaching for the dark and the light at the same time, thus bringing light and love into all our dark places, resurrecting parts of our soul, becoming whole again.
I warmly recommend this powerful transformational work - it has changed my life and it has the power to change yours!
Come with us - the time is now!
Join us on the wombship of creation!
Here you find all the interesting bits of information needed.
I am a certified Womb Awakening Teacher Trainer, Facilitator and Mentor and also offer my mentoring support for this pivotal journey:  Please contact me if you feel called to deepen your experience by booking additional individual mentoring support with me.
If you have any questions that are not answered on the website
or want to book me as your mentor,
please contact me by email.
Looking forward to walking the Path of Love together!
Much love,
Ulrike Sara Shemaya
......................................................................................................................................................................
 More about the Womb Awakening 3 Moon Apprenticeship
❀ It is open to women and men of all ages. We work with the "Spiritual Womb" that embodies the power of the Cosmic Womb.
❀ The Fountain of Life feminine mystery school is a true "University of Healing" which weaves ancient knowledge with modern wisdom.
❀ It involves 1 hour of practices a day, usually 30 minutes of inner journeying, & 30 minutes body prayers/body movement. However you can choose how much you do - there are no 'have to's.'
❀ You can download all the course materials, including Tele-Circle playback-links and keep them forever. Most people journey as a Circle, but some choose to go at their own pace in their own way.
❀ There Tele-Circles during the 3 months. You can attend live and also ask questions, or listen in on a playback link.
❀ Much of the work is about alchemical shamanic healing and awakening your own inner Shakti on a deep spiritual voyage.
❀ We cover the 'lost herstory' of feminine shamanism and remember and embody a spiritual path of love - that includes our body, feelings, sexuality, relationships, vocation, and earth.
❀ There is a private online Apprenticeship Circle for authentic sharing and support in a world wide community.
❀  Optional (additional charge): individual mentoring sessions with me

I am looking forward to welcoming you on board of the Womb Ship!
Blessings of the Grail Light
Disclaimer: My Mentoring Skype Sessions do not constitute a replacement for consultation and treatment with a qualified medical doctor or mental health worker. If you are experiencing serious medical or psychological issues always consult with a trained professional first and always update them on your progress.